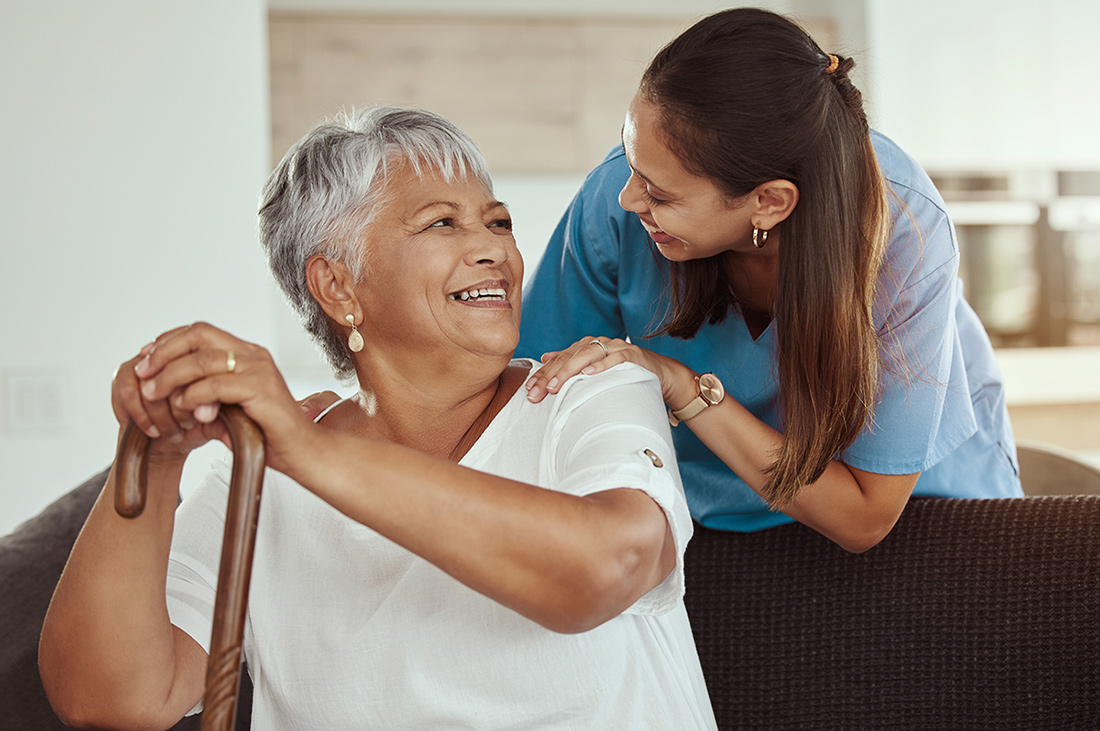 Helping Skilled Nursing Facilities Thrive with Indoor Safety
"We felt confident and made a bold move…we really couldn't be happier."


– Parker Lacy, VP of Facilities Management and Trilogy Health Services
For assistance managing how to secure and apply for this grant funding,
contact us at (909) 583-4270 or schedule a time to chat.
Decrease social isolation while utilizing affordable solutions.
Utilizing MDHHS Funds to Support Infection Control and More
Skilled nursing facilities are often considered a second home to many with elderly family members needing consistent care. With many facilities housed in large buildings, socialization is key. Rooms typically consist of bedrooms, memory care areas, living rooms, activity rooms, dining areas and more for residents to feel like they are 'home' and as comfortable as possible. When the Covid-19 pandemic hit, it created a frenzy of panic when thinking about the safety of their family members in isolation and at higher risk for viral exposure. It also contributed to intense staff burnout and concern. According to a study of healthcare professionals' mental health related to the pandemic, respondents reported high levels of depressive symptoms, concern about health, general anxiety and secondary trauma related to regulations keeping families apart. Senior care facility leaders knew that they needed to do something proactive to help mitigate the risk of viral exposure for both residents and staff, reduce social isolation, combat staff burnout and alleviate family concerns.
In an effort to decrease social isolation of residents and to improve infection prevention and control, the federal government stepped in to provide grant opportunities that help support nursing facilities during the pandemic. In Michigan, the Michigan Department of Health and Human Services (MDHHS) has made infection control grants available to skilled nursing facilities to help support structural and operational improvements that can help reduce the spread of infectious disease and create a healthier indoor environment.
How to get the Support Needed to Enhance Indoor Safety
The purpose of this grant is to provide skilled nursing facilities with a safe, in-person environment where residents can receive the care they need. The application deadline for the Michigan Department of Health and Human Services (MDHHS) Infection Control Grant is March 30, 2023, and facilities can use the funding ($65,000 per individual skilled nursing facility) to pay for all or a portion of the costs of infection control improvements. So, what exactly can the funds be used towards?
Eligible projects may include, but are not limited to, the following:
Efforts to improve indoor air quality, including maintenance and improvements to indoor heating, ventilation, and air-conditioning systems.
The creation of negative air pressure rooms.
The creation of isolation areas in nursing homes for sick residents.
The purchase and installation of technologies to reduce the spread of infectious disease.
Utilizing grant funds to meet the above intent of the program will enable staff and residents to reside within the senior care building with more confidence than before. Being able to create an environment in which capacity is not compromised due to fear of viral risk, isolation or staff burnout is pivotal to skilled nursing success and will leave families at ease knowing that the participating facilities are taking every precaution necessary to keep their loved ones safe.
"The pandemic gave us the opportunity to look at how we can elevate our environmental care…we looked at our five-year horizons and tried to identify the right decision for environmental protection and safety, both for today and five years from now." – Parker Lacy, VP of Facilities Management and Trilogy Health Services
The R-Zero Advantage
Dozens of skilled nursing facilities nationwide leverage R-Zero UVC disinfection to help their residents and staff thrive. Most recently, Trilogy Health Services, a leading operator in senior living communities throughout Kentucky, Indiana, Ohio, and Michigan applied for the MDHHS grant for R-Zero UV solutions in an effort to improve indoor air quality throughout their many facilities. Within the MDHHS funding eligible projects, grant dollars can be used towards R-Zero's always-on solutions, Beam and Vive. Both UR-UVGI solutions deliver non-stop air and surface disinfection that is safe for occupied spaces. Used together or separately, they work to neutralize 99.99% of viruses and bacteria in just a few minutes and are 12x more sustainable than HVAC or chemical solutions alone. With 12 campuses in Michigan, Trilogy was approved with grant funding per individual site and will be using their allotted dollars to deliver superior protection for their staff and residents at each facility with continuous, proactive UVC disinfection.
"We felt confident and made a bold move…we really couldn't be happier." – Parker Lacy, VP of Facilities Management and Trilogy Health Services
For more information, contact us at (909) 583-4270 or schedule a time to chat.
More posts you might like
The Switch from Electrostatic Spraying to UV-C Disinfection The Carle Health Foundation is a hospital in Urbana, Illinois, with nearly 500 beds. It provides essential emergency services and specialized newborn care for its community. The hospital continually reinforces its commitment to delivering top-notch healthcare across an ever-growing network and is recognized as one of America's […]

Ultraviolet Germicidal Irradiation (UVGI) is a type of UV light used in hospitals and labs since the 1800s to effectively disinfect occupied spaces. It is a type of UV light similar to far-UV light, which we discussed in our last post, but with a few different properties and uses. As UVGI becomes more accessible for […]

With ASHRAE's new standards for maintaining clean indoor air, UV-C light is quickly becoming a leading method in deactivating microorganisms effectively and affordably. Constantly running an HVAC system to cycle in clean air has significant energy and financial costs, but cleaning the air in place with the power of UV-C light has the same effect […]