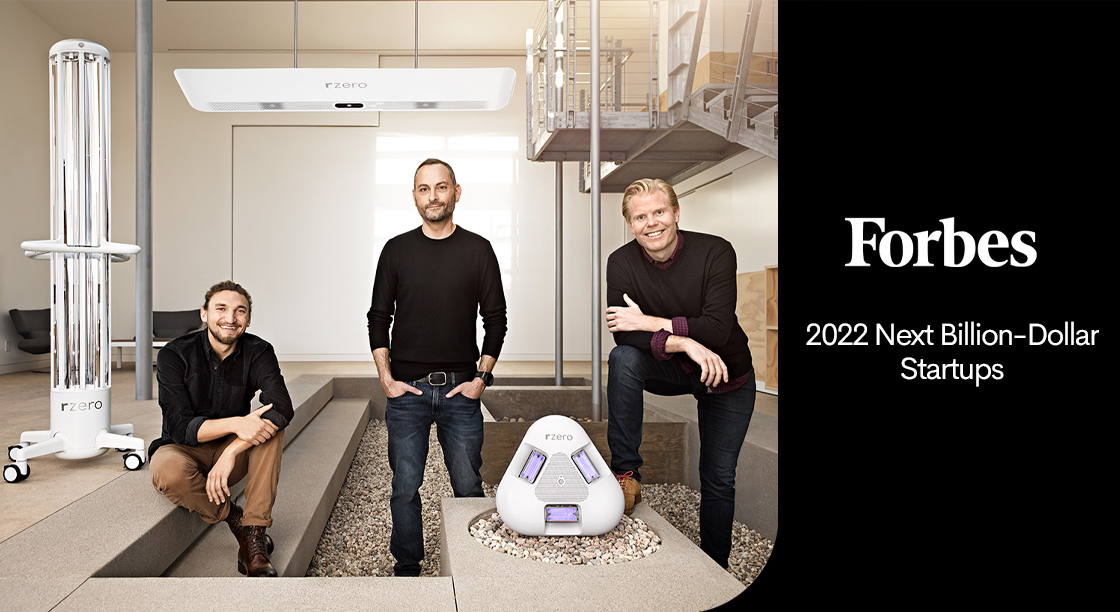 R-Zero Named to Forbes' 2022 Next Billion-Dollar Startups List
As humans, we spend 90% of our lives indoors. Yet for decades, the built environment has been optimized for energy efficiency, instead of people. And while society has made strides in ensuring the water we drink and the food we eat is safe — the indoor air we breathe 18-20,000 times per day has long been ignored. Today demands a paradigm shift.
R-Zero was founded in April 2020 — during the early days of the global COVID-19 pandemic — on the insight that the built environment has been dominated by commodity chemical manufacturers, and void of technology and innovation.
Our founders, Grant Morgan, Ben Boyer, and Eli Harris, knew technology could not only transform an archaic industry, but fundamentally improve the way we approach health of the built environment. What started as an effort to democratize access to hospital-grade disinfection at a time when people needed it most, quickly turned into a mission to deliver a new way forward.
From the beginning, we've operated as if lives were at stake — because they literally were. We knew the faster we could manufacture and ship product, the more people we could help. As a result, in the two short years since R-Zero was founded, we've accomplished more than many do in a decade.
We've grown from three founders to a globally distributed team of over 170, across 15 countries. We've launched three category-defining, award-winning products. But, most importantly, we've helped thousands of organizations protect what matters most: their people.
Today, R-Zero's technology is enabling safer, healthier, and more productive shared indoor spaces for hundreds of thousands of people across the country. Over 1,000 school campuses rely on our sustainable disinfection products to create safer indoor learning environments for teachers, students, and staff. Our technology is also protecting residents and staff across hundreds of senior care communities, increasing health and performance conditions for professional sports teams across the NFL, NBA, NHL, and MLS, helping ensure a safe return-to-office for small businesses to Fortune 500s — and so much more.
That's why we're thrilled to announce R-Zero has been named one of Forbes' 2022 Next Billion-Dollar Startups.
Today, R-Zero's intelligent biosafety technology platform is the first designed to create buildings that actively work to keep occupants safer and more productive. In our vision for the future, technologies like ours will be a standard part of every building — ultimately improving the quality of life, for all.
R-Zero's business sits at the intersection of a unique opportunity: where social good meets bottom line. We are incredibly proud of the business we've built to date, and of the impact we continue to have on our customers and their communities. But we're just getting started.
Read the full story here: This Startup Wants To Bring Disinfecting UV Light Into "Every Physical Space"
Interested in joining the next phase of our journey? We're hiring.
More posts you might like
The Switch from Electrostatic Spraying to UV-C Disinfection The Carle Health Foundation is a hospital in Urbana, Illinois, with nearly 500 beds. It provides essential emergency services and specialized newborn care for its community. The hospital continually reinforces its commitment to delivering top-notch healthcare across an ever-growing network and is recognized as one of America's […]

Ultraviolet Germicidal Irradiation (UVGI) is a type of UV light used in hospitals and labs since the 1800s to effectively disinfect occupied spaces. It is a type of UV light similar to far-UV light, which we discussed in our last post, but with a few different properties and uses. As UVGI becomes more accessible for […]

With ASHRAE's new standards for maintaining clean indoor air, UV-C light is quickly becoming a leading method in deactivating microorganisms effectively and affordably. Constantly running an HVAC system to cycle in clean air has significant energy and financial costs, but cleaning the air in place with the power of UV-C light has the same effect […]